C1 session best practices
When you are using Capture One session, Peakto will ingest your files from the data stored in the C1 database.
So if you make some changes in your session, directly using the finder and if you want to see your changes in Peakto, you have to:
1) reopen C1: it will update its database with your changes
2) Make a Smart Re-Ingest in Peakto to let Peakto update your changes.
For that make CTRL click on your source and choose smart Reingest.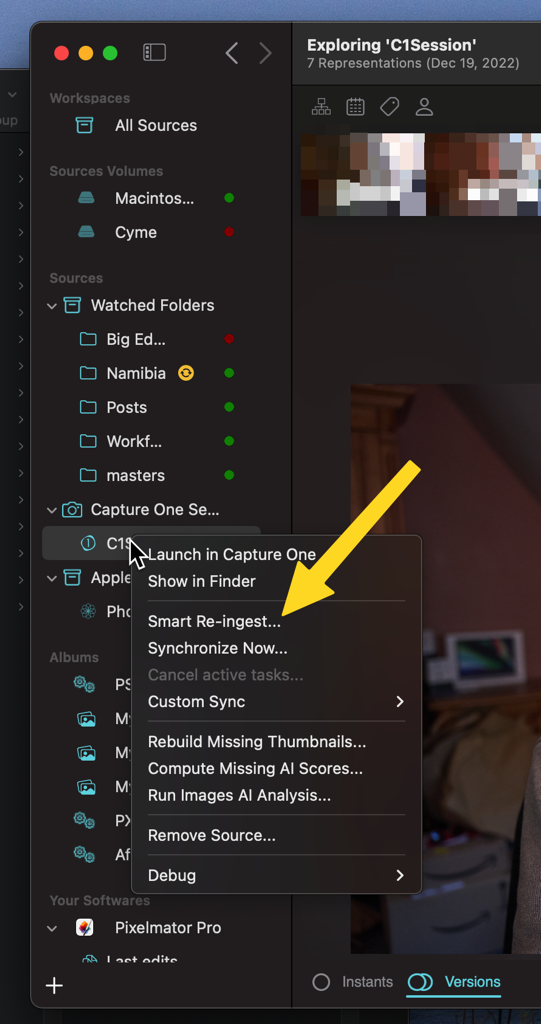 Related Articles

How to send the Peakto database when the support asks for it

Peakto saves its catalog structure in a folder that you can define yourself via the Preferences. If you don't do anything special, the default location is : ~/Library/Application Support/Peakto The Peakto catalog consists in several database files: ...

Volume is online but catatogs on that volume appear offline

There are situations where a volume has been improperly ejected. When the volume is mounted again, the mount point of the previous time is still hanging around, and macOS cannot reuse it. As a result it will allocate a new mount point that has a ...

AVALANCHE - Frequently Asked Question

Q: What is the purpose of Avalanche ? Avalanche is designed to convert catalogs of photographs from one application to another. For example, if you wish to move your pictures that are currently catalogued in Apple Aperture to another app, such as ...