How to send the Aperture database if the support asks for it ?
Aperture libraries can be very big and sometimes contain images.

In some situations, it would be useful for our support team to be able to simulate Avalanche running on your own data.

Luckily, you don't have to send any image to let us do that. We simply need 3 files that contain enough data to do a lot.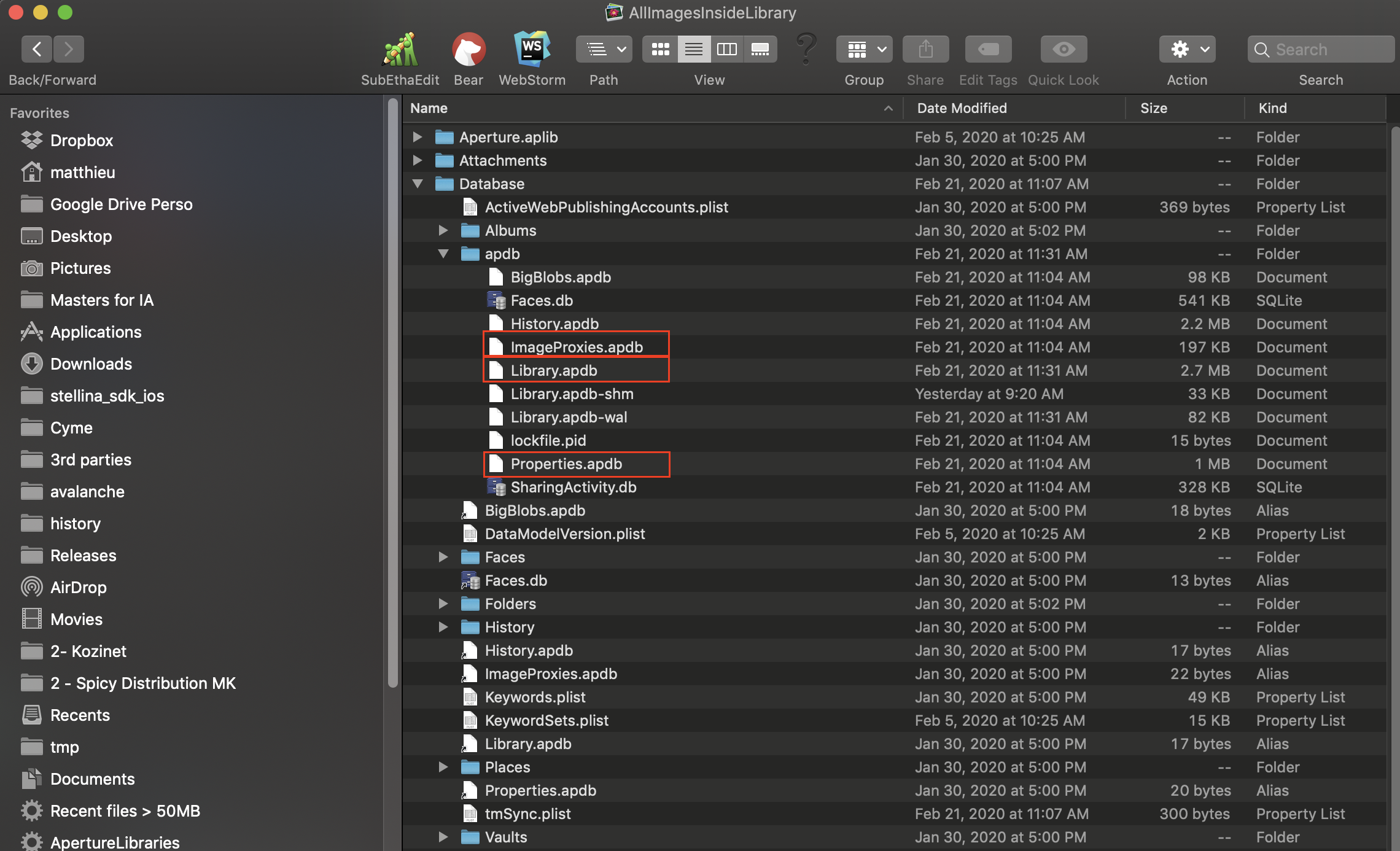 To locate those 3 files, do the following:

navigate to your library on the Finder

control+click on the Aperture library and choose "Show Package Content"

This will open a Finder window showing the content of the library

You will find a folder called Database and inside, a folder called apdb.

Send the following files via WeTransfer (if they are big):
These files do not contain any pictures, only metadata.

-- Cyme Support --
Related Articles

How to send the Peakto database when the support asks for it

Peakto saves its catalog structure in a folder that you can define yourself via the Preferences. If you don't do anything special, the default location is : ~/Library/Application Support/Peakto The Peakto catalog consists in several database files: ...

How to send a C1 database when the support asks for it.

In some situations, it is very useful to be able to access a C1 catalog when a customer encounters an issue. This note explains how to send the C1 database if someone from the team asks for it. First of all, a C1 database is NOT a catalog. It does ...

How to send your machine ID when the support asks for it

Sometimes, we need to be able to find you in our trial database while you are still testing Peakto, e.g when trying to extend the trial period. Because we do not ask for an email when starting a trial, the only identification we have is the ID of ...

The case of Aperture on macOS Catalina. Is it too late for migrating those libraries ?

As you know, macOS Catalina does not let you launch Aperture anymore (*). It does not really matter for Avalanche, since our product does not rely on Aperture to run anymore, nor to be installed on your Mac. This is because Avalanche is not a plugin ...

Does Avalanche support Referenced and Managed files ?

This is a question we received a lot: does Avalanche properly handle referenced and managed files from your library ? Or we get asked this variant: "do I need to transform my managed images into referenced images, or the opposite, to work with ...