In this article we discuss how Avalanche handles the migration of Aperture Projects.




Projects in Aperture are entities with the following cararcteristics :


- each master in the catalog belongs to 1 project only


- projects can contain albums


- projects can contain other structural objects such as folders, that, in turn can contain further albums


- projects cannot have other projects as descendants





Here is an example of a complex library structure, with projects containing albums

❶

, projects containing folders

➋

, folders containing projects containing albums

➌

.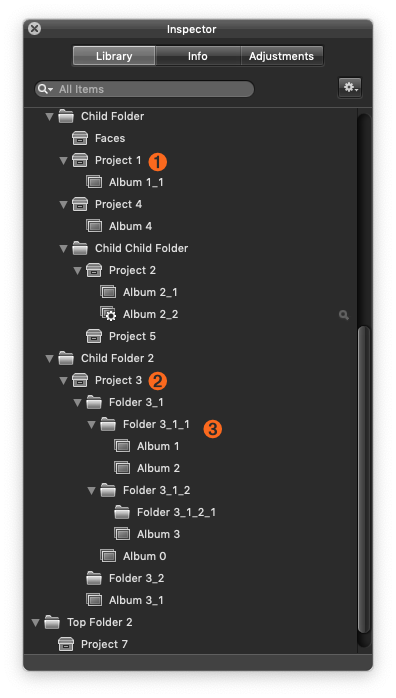 Projects don't exist in Lightroom and in many other cataloging apps. The only entities that are helpful to create structure in the catalog are collections and collections groups. To represent the structure that was present in Aperture, we do the following :

we transform albums in collections when they are not empty

we transform folders into collection groups
we transform projects into collection groups, in order to be able to span a hierarchy underneath. However, because the project was also container of images, we need to add a synthetic album with the content of the project.

Example: if we look carefully at the transformation of the above Aperture structure, we will get this in Lightroom
Project 1 was transformed into a collection group with a synthetic album, Project 1 (Content), containing the images of the original project. The child album or Project 1 in Aperture (Album 1_1) appears as a direct child of the collection group

Child Folder 2 was a folder in Aperture and is now a Collection Group. It contains Project 3 that was also transformed into a collection group. A new synthetic album named Project 3 (Content) was created to store the images of Project 3. All empty albums or empty albums have been ignored to simply the resulting hierarchy.