Working with Peakto with several computers
Peakto lets you choose where its database is located.


By default, Peakto stores its files in the Library/Application Support/Peakto directory of the user account, but this can be changed easily :

either by holding the Option key when launching Peakto. This will bring the following dialog, where the location of the Peakto room folder can be reset

or by opening the Preferences screen of Peakto while the app is running, and changing the location of the root folder using the same dialog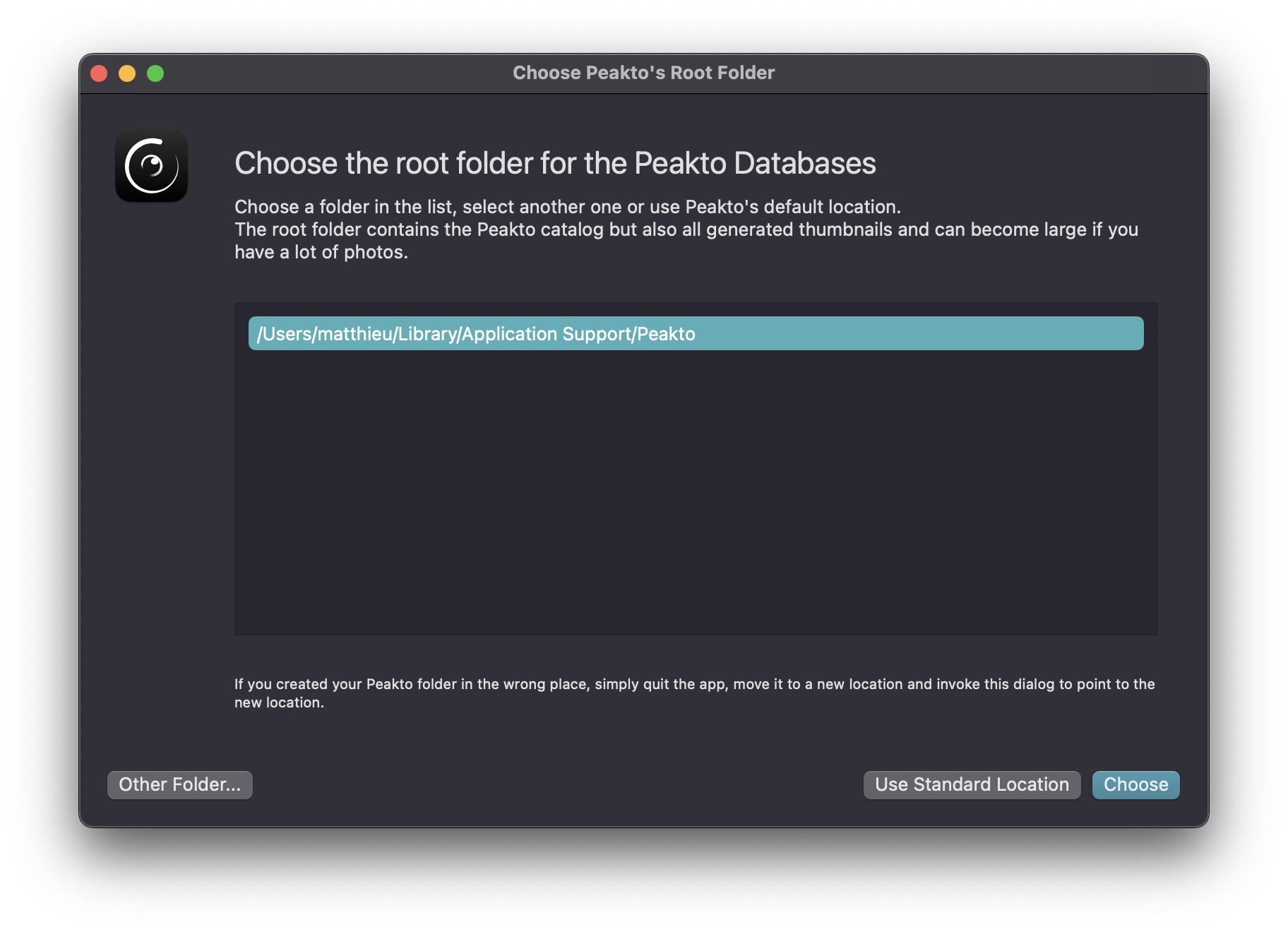 The Peakto root chooser
In this article, we exploit this possibility in the case of a scenario involving 2 different computers where we want to share the database between the two.

The recommended setup is the following:

Set up the Peakto root on an external drive. We strongly recommend a fast SSD for this purpose to maintain optimal performances when navigating inside Peakto. Lets call it the shuttle drive.

Attach alternatively this shuttle drive to computer 1 and computer 2

When launching Peakto on a computer for the 1st time, hold the Option key and point the root to the root that was created on the shuttle drive (use "Other folder" in the screen above).

You can ingest data that is local to each computer while the shuttle drive is attached.

You can also plug external drives and run the ingestion on any computer with these drives attached

Once connected to a specific computer, all sources that are referenced the other machine will appear offline.


Caveat: It is currently not recommended to ingest sources that are different but share the exact same path on the 2 computers. For example, "/Users/<account_name>/Pictures". This will cause confusion.

Related Articles

How to send the Peakto database when the support asks for it

Peakto saves its catalog structure in a folder that you can define yourself via the Preferences. If you don't do anything special, the default location is : ~/Library/Application Support/Peakto The Peakto catalog consists in several database files: ...

Volume is online but catatogs on that volume appear offline

There are situations where a volume has been improperly ejected. When the volume is mounted again, the mount point of the previous time is still hanging around, and macOS cannot reuse it. As a result it will allocate a new mount point that has a ...

Peakto Documentation

English You can access the PDF documentation of Peakto (in English) from this link: PDF Français La documentation en français est en cours de finalisation et sera disponible d'ici peu.

Master information in Peakto

The image inspector in Peakto has a section dedicated to Master Information. It indicates the kind of master file, its location, size and format.

Understanding previews in Peakto

Peakto needs to render previews and thumbnails for all photos referenced. Sometimes, the correct rendering for an image is the result of complex adjustments being applied on an original image (the master). Peakto therefore relies completely on the ...